PRISM
Prism 2019 will be held during International Coaching Week
The Prism Award celebrates organizational coaching programs that fulfill rigorous professional standards, address key strategic goals, shape organizational culture, and yield discernible and measurable positive impacts.
Thursday, May 2, 2019
Wescana Golf & Country Club, Regina

A night of celebrations at the ICF Saskatchewan Chapter Prism and evening gala to recognize and honour organizations committed to enhancing business results and organizational effectiveness through coaching.
Participation in the Prism 2019 Awards as an attendee and/or sponsor demonstrates to employees, clients, colleagues and the community your organization's progressiveness, and that you value coaching's unique contribution to individual and organizational success.
4:45pm Reception and cash bar
6:00pm Dinner
7:00pm Prism Awards presentations
Prism tickets available here - sales end April 24th
---
We would love to name you as a sponsor.
Offering several levels of sponsorship opportunity, in return your investment guarantees you will:
Build credibiltiy and business perception

Promote positive community association

Demonstrate emotional commitment in advocating the Coaching profession

Be recognized as a brand for Coaching, create preference

Have a digital presence

Reach a wider audience
Contact
or
with questions and Sponsorship offers.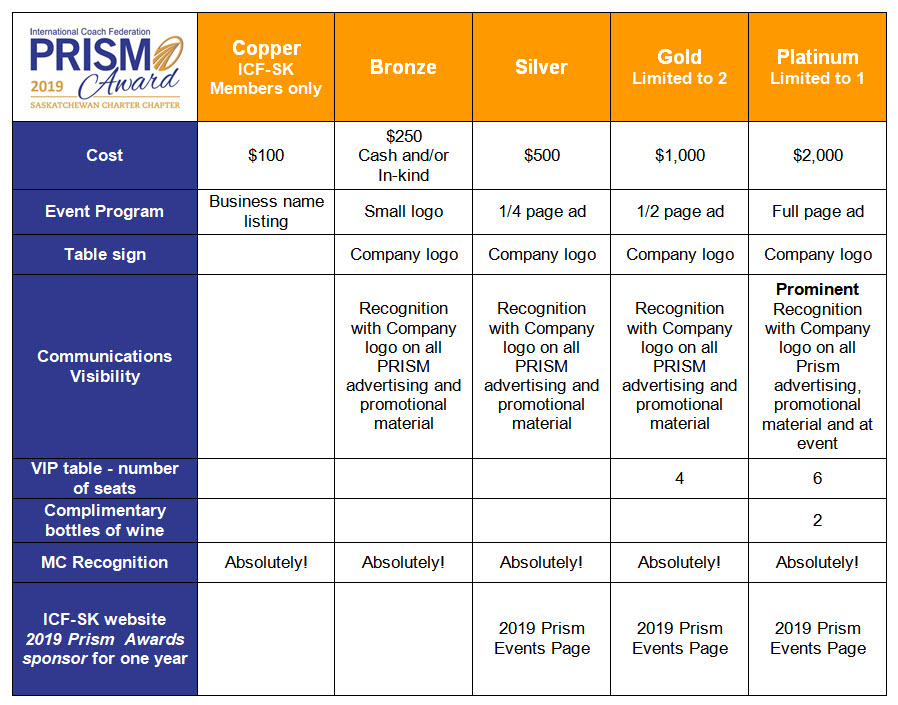 ---
Introducing Prism 2019 Judges
Sherri Stephanson, Louise Mallet and Laurie Johnson
Sherri Stephanson ACC, M.Ed., Cert.ConRes.
Sherri's company, Aldebaran Coaching and Consultingprovides customized individual, group and workplace coaching and training, as well as human resource consulting.

Her experience includes 32 years in pre-K-12 education working as a classroom teacher, principal and superintendent. She has extensive experience in leadership development, mentorship and coaching, having worked in a school division that embedded coaching into its staff supervision program. Sherri is highly skilled in the principles of adult learning and has facilitated workshops and seminars for leaders that cover the range of services offered. Along with personal leadership coaching, Sherri is a facilitator of coach training for teams of leaders using EXPEDITION Coaching™. She is also a facilitator of Personal Excellence Power Circle Groups.

Sherri is a member of the International Coaching Federation, Saskatchewan Charter Chapter and an Associate Certified Coach. She has a B. Ed and M. Ed from the University of Saskatchewan, and a Certificate in Conflict Resolution from the Justice Institute of British Columbia. As a sessional lecturer at the University of Regina, she enjoys teaching classes in the area of Educational Leadership. She is also certified in EQi-2.0 and EQ360, an emotional intelligence assessment.
---
Louise Mallett CHRP, CEC
Louise has worked in Human Resources for 18+ years in a variety of capacities and in various business environments. Louise has recently moved to the Saskatchewan Cancer Agency as the Organizational Change and Development Lead with a focus on building a change management practice and developing change leadership in the organization. Previously, Louise worked at SaskPower for 10 years in the roles of Organizational Development Consultant, Human Resource Business Partner and Organizational Change Management Specialist in Human Resources and in Information Technology & Security. Louise's career has focused on building and leading change management and organizational effectiveness as well as individual and team coaching, career management, leadership development, team effectiveness and group facilitation.

Louise achieved her Certified Executive Coach (CEC) through Royal Roads University in 2010. She has been a member of the International Coach Federation (ICF) and obtained the Associate Certified Coach (ACC) designation in 2014 and is currently pursing her Professional Certified Coach (PCC). Louise's educational background is in Business Administration and Adult Training and Development. Louise is a Chartered Professional in Human Resources (CPHR) and is a Prosci certified Change Management practitioner and has certifications in a variety of assessment tools.

Louise's coaching style is listening with curiosity to empower individuals to see their strengths leverage those strengths to reach their full potential.
---
Laurie Johnson BSA, MBA, CEC, PCC
Laurie is a Certified Executive Coach offering over 30 years of diverse experience as an executive HR leader and senior business professional. She has proven expertise in change management, coaching, employee engagement, leadership development, organizational effectiveness, performance management and succession planning. Laurie's combination of business experience and coaching skills allows her to partner with executives and leaders to become enlightened leaders that inspire their teams to high levels of performance.

Business/Organizational Leadership Experience
Laurie has partnered with senior executive teams to identify/deliver business-focused HR solutions to meet business strategies in dynamic company environments. She has transformed HR teams by streamlining and standardizing HR processes, procedures and systems. She has been a catalyst in improving overall business effectiveness through strategic change management and communications regarding several major business transformation projects. She also has extensive experience in guiding organizations through mergers and acquisitions.

Laurie has worked for large provincial, national and global organizations in the agricultural, energy, financial and legal services industries.

Education and Training
Laurie holds a Master degree in Business Administration from the University of Regina, and a Bachelor of Science degree in Agricultural Economics from the University of Saskatchewan. She also holds a graduate certificate in Executive Coaching from Royal Roads University where she earned her Certified Executive Coach (CEC) designation, and she is a Professional Certified Coach (PCC) through the International Coach Federation. Laurie is the CEO of getting CONNECTED coaching & consulting inc.; a past President of the International Coach Federation Saskatchewan Chapter; a licensed trainer of Coaching Out of the Box®; and certified to use the ASSESS, Birkman, and EQ-i 2.0 (emotional intelligence) suite of tools. In 2017, Laurie completed Judith E. Glaser's Conversational Intelligence ® (C-IQ®) for Coaches Certification program and is Certified Coach in Conversational Intelligence®.